Gloria Hallelujah
(Latin)
What is Online Text to Handwriting Converter?
Text to Handwriting Converter is a free online tool for converting texts into handwriting and downloading them as image or PDF for different handwriting font types, ink colors and papers. Looking for a way to make your text look more unique? With just a few clicks, you can turn your typed text into beautiful handwritten script. Whether you're looking to add a personal touch to your homework or spice up your next school project, our text to handwriting converter is the perfect tool for you! It looks like real handwriting on a real paper. If you need handwriting images or documents which looks real, you can use this tool.
Handwriting is a timeless form of expression that adds a unique, personal touch to any message. Whether you're creating a handwritten letter or adding a handwritten note to a digital document, the process of converting text to handwriting can be a fun and creative way to stand out.
We'll cover some best practices for creating authentic-looking handwriting. Whether you're a designer looking to add a handwritten element to your next project or a writer wanting to create a handwritten letter, this tool has something for everyone.
You can choose any font, ink color and paper type from the list and get the handwritten output in JPG and PDF format. All font families are suitable for creating handwritten texts while all has different characteristics. You can see which font supports which alphabets near the font option. Currently, Latin, Devanagari, Arabic and Cyrillic alphabets are supported. There are 3 ink types, black, blue, and red where all has its light and dark versions.
In terms of output quality, you will get high resolution images and PDFs as it is configured to give high resolution, sharp and detailed outputs, that means the output will look like you wrote the text with a pen by your hand.
A long list will be offered for paper type. Some are classical paper types like white paper, horizontal and square lined papers or straw paper while others have background images as paper frames. They are categorized as gift, birthday, love letter and Christmas papers. You can use this tool as gift letter generator, birthday letter generator, love letter generator or Christmas letter generator according to your needs. These letters are in printable format for A4 size paper and can be printed out and used to surprise your friends. You can preview it online before downloading to see if you get the desired result.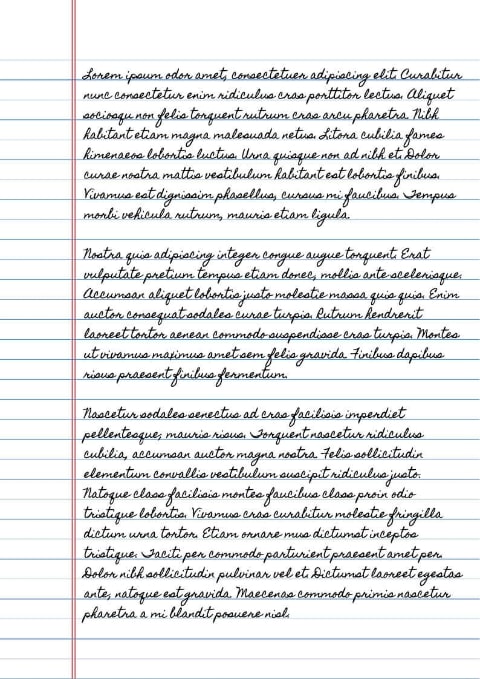 Text to Handwriting Image Conversion
Online Text to Handwriting Converter can be used for different purposes; to write a love letter to your girlfriend, boyfriend, or partner, for birthday celebration, gifting, and Christmas celebration, to do your college writing assignments or your homework which requires handwritten documents, write literature text or take notes, make shopping list etc.
If you have a long text and want to convert multiple pages into handwriting and download it as a single PDF file, that is also supported. Multipage support is an advanced feature which is very difficult to implement, but you will gain lots of extra time with this feature as it will increase your productivity. Otherwise, you will need to convert each page one by one.
You can also convert Word to handwriting or PDF to handwriting. Just copy all text from Microsoft Word document with .doc or .docx extension or your PDF files and paste in the input field. Since the tool supports multipage conversion, it will automatically split your text into pages and generate a single PDF by merging them.
Stylize Your Handwriting with Text Editor
You can use the text editor to edit your text before converting it into handwriting. You can use the text editor to change font size, font color, font style, font weight and text align properties. You can also add lists and images into your writings. Please keep in mind that the text editor is not a full featured text editor. It is just a simple text editor which is enough for most of the cases.
Upload Custom Paper
You can upload your own papers in the following image formats; JPG, PNG, SVG or AVIF. You can use this feature by selecting "Upload Custom Paper" from "Paper Type" menu. It gives you the flexibility to use this tool for your own purposes easier than ever.
Language Support
10015.io text to handwriting tool supports all languages that uses Latin, Devanagari, Arabic and Cyrillic alphabets. You can use this tool to convert your text into handwriting in any language that uses these alphabets such as English, German, Spanish, Italian, French, Portuguese, Arabic, Persian, Urdu, Hindi, Bengali, Russian, Serbian, Bulgarian, Ukrainian, Korean, Japanese, Chinese, Thai, Hebrew, Vietnamese etc. You can see the supported alphabets for each font family near the font option.
Auto-save your work
When you work on your text that will be converted into handwriting, 10015.io automatically saves your text in your browser behind the scenes in every 10 seconds periodically. So, you can close the tab and come back later to continue your work. It will also prevent you from losing your work if you accidentally close the tab or refresh the page.
How to use Online Text to Handwriting Converter?
You can convert your texts into handwriting by following these steps.
Type your text you want to convert in the text field. Your typed text will be converted directly while you are typing and will be shown on preview field.
You can use "Text Editor" option if you want to further stylize your text. If you want headings, bold or italic texts, different font sizes, images and lists, this is the place to do it.
Choose font family, ink color and paper type from the list. For font family selection, please pay attention to the supported alphabets, some fonts support only Latin alphabets while others support Latin, Devanagari, Arabic and Cyrillic alphabets.
Download handwritten text as an image or PDF.
If the text is long and its content is more than one page, it will be automatically split into multiple pages and you will be allowed to download each page separately as image/PDF or download all pages merged in a single PDF file.