Enter a valid Vimeo URL to see the thumbnails
What is Online Vimeo Thumbnail Grabber?
Vimeo Thumbnail Grabber is a free online tool for grabbing thumbnail images of Vimeo videos for different resolutions. It works as Vimeo thumbnail downloader. Vimeo is a video platform established in 2004. Vimeo is serving just like YouTube, but its focus is mainly artistic videos like movies, TV shows, documentaries, and music videos. Since it has a more professional community than YouTube, people prefer to use Vimeo for their corporate videos. It is mostly known as the first media platform on web that allows to show 4K (Ultra HD) media. This helps to differentiate the company within competitors and attracts corporate companies and professionals to use the site for show reels, advertisements, trailers, and similar purposes. Other options that make the platform unique is their professional plans. If you are a paid customer, you can use your own branding and customize the player with your brand's colors and identity. This solution is widely used by companies which does not want to stream media on their own website, but still want to use them with their own brand. With all these features, it is one of the most popular alternatives to YouTube and it has millions of traffic per month. It is one of the top sites according to Alexa rankings. There is a statement made by CEO of the company that "Vimeo is the Switzerland for creators". It gives a great clue about the perspective and mission of the platform. They are on the quality side of the competition rather than quantity.
A thumbnail is an image that represents a video. It gives a first impression about the video to the user, so it is very important as users mostly decided to click the content or not by looking these pictures. Attractive and intriguing images are preferred to increase click rate. It is usually displayed in a player, and it is also used in search results. The thumbnail is usually displayed in a small size, but there are many different sizes for the thumbnails according to usage areas. If it is used in a result list, then there will be more than one on the screen at the same time and small one will be used. If there is only one embedded player on the page with full size, then a bigger one will be preferred as a cover.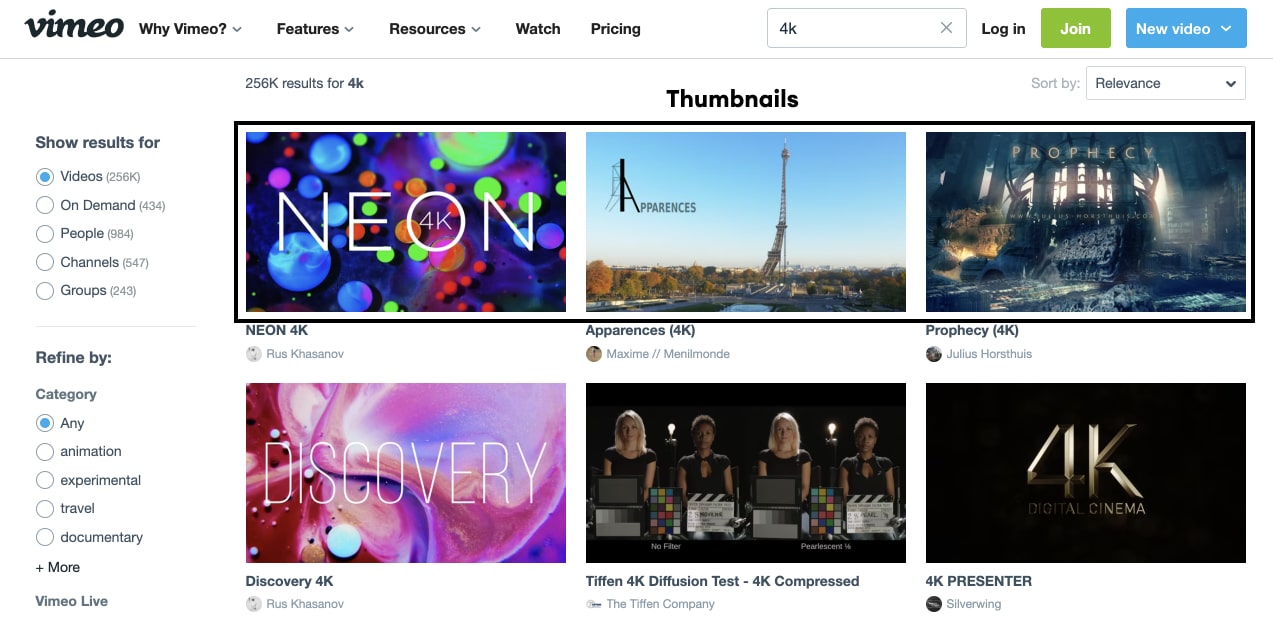 How Vimeo Thumbnail Images Looks Like
For different reasons like using it in your designs or using it as a cover or poster, you may need them. Since the ID of video and thumbnail is not equal to each other in contrary to YouTube, it is not possible to extract it directly even if you know the URL structure. Therefore, you need to use API endpoint and fetch the meta data from there to obtain results.
When you are on Vimeo for uploading a new video, Vimeo uses same image as a thumbnail for different solutions and the size of the image is set with a URL parameter. If you use API of Vimeo to get info about the video, if offers a set of thumbnails, but maximum width is 640px, so it is not sufficient for most of the cases. People may need HD thumbnails of Vimeo videos. In contrary to API result, 10015 Vimeo thumbnail downloader offers HD thumbnails of Vimeo videos. Here are the available resolutions. By that way, you can grab HD images of the same media directly.
X-Large (HD): 1920x1080px
Large: 1280x720px
Medium: 640x360px
Small: 320x180px
X-Small: 240x135px
Online Vimeo Thumbnail Grabber supports variety of Vimeo URL types, such as standard video URL structure, videos with channel URL or videos with group URL. Any of the following URL formats are supported in this tool if you want to download Vimeo video images. It will automatically detect the URL and extract the ID for these 3 different types.
https://vimeo.com/*
https://vimeo.com/channels/*/*
https://vimeo.com/groups/*/videos/*
How to use Online Vimeo Thumbnail Grabber?
Vimeo video thumbnails can be extracted and downloaded by following steps.
Fill the URL field with the URL of the Vimeo video that you want to grab the video image.
All results will be listed automatically after you put the URL. If there is a problem with the link, you will see a warning related to the link. It everything is okay; you can get Vimeo video images by using action buttons on the bottom of each image.