This is a sample tweet.
@mentions
,
#hashtags
,
https://links.com
are all automatically converted.
By using Tweet Generator by 10015.io, you agree to our 
Usage Policy
.
What is Online Tweet Generator?
Tweet Generator is a free online tool for generating tweets for making jokes to your friends, colleagues or community. It works like a Tweet maker. Twitter is one of the biggest social networks. Even it is not possible to make sure if the information given is 100% true or not as all other internet sources, people are getting information by following accounts of other people, communities, organizations.
You can make fun with your friends by generating real looking tweets online and share the generated tweet images with your friends. Don't forget that main intention of this tool is just to entertain and make jokes to people, nothing more. So, checkout the usage policy below if you have any questions on your mind about usage details.
If you need online fake Tweet Generator to make fun of people, this tool will make most of the work for you. For now, basic tweet capabilities are available for keeping things simple. If users need more complex features like link sharing, tweet sharing, tweet flood, liked or retweeted tweet, theming, they will be added soon.
For tweet images, Twitter has a special algorithm to decide which part of the image is worth showing in the tweet body. It detects faces and texts in images and use these parts in previews. This tool has not such mechanism, it just centers the image. If you want to show specific part of an image which is not in the center of the image, you can use image cropper.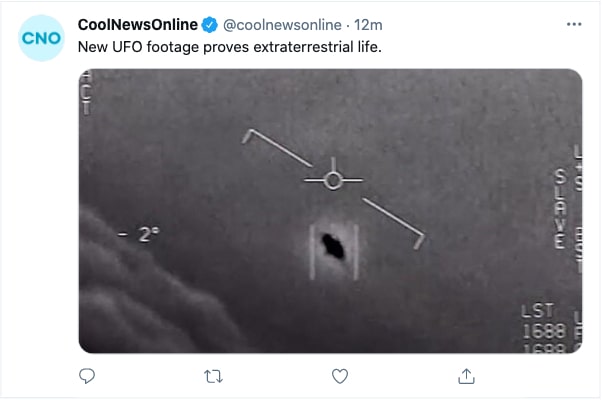 A generated tweet to joke your friends about aliens
How to use Online Tweet Generator?
You can generate tweet images by following these steps.
Upload the images that will be used in tweet. You can upload avatar and tweet images up to 4. Both are optional.
Enter required fields like name, username, tweet date, tweet content etc. Also, you can set tweet statistics that shows reply, retweet and like count.
When you set all the fields and you are okay with the result showed in preview field, you can export the tweet according to your needs. You can download it as an image by using "Download Tweet" option or copy the Tweet image into your clipboard and paste it direcly into your messaging channnels.
Usage Policy
10015.io is not responsible for the generated images by users. By using Tweet Generator by 10015.io, you agree to use our tool lawfully and ethically, and in accordance with these rules:
You do not use generated images to create content that has ill intent including but not limited to harass, attack, incite violence, slander, threaten, disparage, intimidate, or otherwise hurt other people or entities.
You do not use generated images to spread false information that will affect human life in a negative way.
You do not present generated images as fact. As described, main intent is having good time by making fun of people, not just misleading them.
You make it obvious to any viewers that generated images are not original/genuine.