By using Instagram Post Generator by 10015.io, you agree to our 
Usage Policy
.
What is Online Instagram Post Generator?
Instagram Post Generator is a free online tool for generating Instagram posts for having fun with people around you by making think them as if the post is real. Instagram can be listed as one of the biggest social media networks working on photo and video sharing. People are following lots of accounts where some are official celebrity/influencer accounts, and some are their friends. Some people also like to share these posts as a screenshot. This tool can be defined as fake Instagram post maker or fake Instagram post creator which can be used for fun purposes only.
Instagram is a social media platform that was created in 2010 by Kevin Systrom and Mike Krieger. The platform was initially launched as an app for sharing photos on iOS devices, but it has since expanded to support Android and web.
The idea for Instagram came from Systrom's experience as a graduate student at Stanford University, where he studied the impact of mobile technology on social interaction. He and Krieger began working on the app in 2010 and launched it on the iOS App Store in October of that year.
In the beginning, Instagram was a simple app that allowed users to apply filters to their photos and share them with their followers. However, it quickly gained popularity and reached one million users within two months of its launch.
In 2012, Facebook has acquired Instagram for $1 billion, and the platform has continued to grow and evolve since then. Today, it is one of the most popular social media platforms in the world, with over 1 billion active users.
If you want to have fun with your friends by sending them real-looking fake Instagram posts to making jokes to them, Instagram Post Generator is the best alternative for you. But you have to keep in mind that Fake Instagram generator has a usage policy and you have to follow the rules if you want to use it.
There are lots of different options are available in Instagram posts. Most of the major ones are included in the tool, but some fewer common ones are not added yet.
Instagram images may have different aspect ratios, but to keep things simple, 1:1 ratio is used as default on the media.
A generated Instagram post for joking your network about aliens
You can see an image above which is created by the Instagram post maker. You can send these types of screenshots to you friends or colleagues and make jokes to them by sharing it.
If you don't use this tool, this is the process you have to flow to create an Instagram post.
First, open the Instagram app on your mobile device and log in to your account.
Next, tap on the camera icon in the top left corner of the screen to open the photo capture interface.
Take a photo or select one from your device's photo library by tapping on the gallery icon in the bottom left corner of the screen.
Once you've selected a photo, you can edit it by using the tools at the bottom of the screen. You can crop the photo, adjust the brightness, and apply filters to give it a desired look.
After you're satisfied with the photo, tap on the next button in the top right corner of the screen to proceed to the next step.
In the next step, you can add a caption to your photo by tapping on the text field at the top of the screen. You can also tag other users, add hashtags, and add a location to your post.
When you're ready, tap on the share button in the top right corner of the screen to post your photo to your Instagram feed.
You need to open a fresh new account to create a fake image since you need to change lots of properties to immitate a real post. You need to change the profile picture, and bio. Then you need to create a new post and change the image, caption, and hashtags. After that, you need to share the post to your fake account. Then you need to take a screenshot of the post and send it to your friends. Even if you create a post with the above steps, some fields are impossible to replicate like username or post date. This process is too long and complicated, but you can do it in a few seconds with the help of this tool
How to use Online Instagram Post Generator?
You can generate Instagram post images by following these steps.
First, upload the media files like avatar and post image that will be used in post. Avatar is optional, but post image is required since Instagram is a media platform.
Enter informative fields like username, postdate, post text etc. Also, you can set post comments and statistics that represent like and comment count.
After all the fields are filled with relevant information and you are satisfied with the result, you can use "Export" button to download the image or copy it to your clipboard for sharing with your friends directly.
Usage Policy
10015.io is not responsible for the generated images by users. By using Instagram Post Generator by 10015.io, you agree to use our tool lawfully and ethically, and in accordance with these rules:
You do not use generated Instagram post images to create content that has ill intent including but not limited to harass, attack, incite violence, slander, threaten, disparage, intimidate, or otherwise hurt other people or entities.
You do not use generated Instagram post images to spread false information that will affect human life in a negative way.
You do not present created Instagram posts as fact. As described, main intent is having good time by making fun of people, not just misleading them.
You make it obvious to any viewers that Instagram posts that are generated by Instagram post maker are not original/genuine.
Some Art
If you are interested in artificial art, here is how a fake Instagram post look like in the world of machines. It is good to see at least the action icons such as like, comment and send even if they are not the exact ones.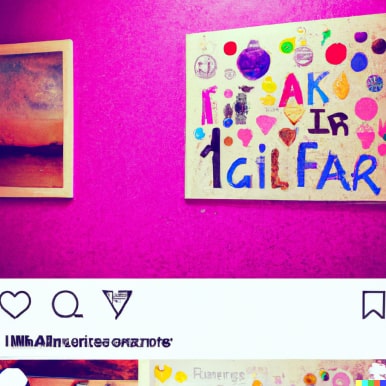 Fake Instagram Post